From left to Right, Annie May, Doobie Davey, Lulu and Oreo
Hi Ya... Oreo Selfie and friends.... Lulu (Calico), Doobie Davey (Tabby) and Annie May (Tortie on the Left). I loves my home buddies so just couldn't leave them out of the photo.
Mom hasn't given any updates since Mew Year's. She's just stares at the blog... like that will tell you how we are all doing...
She asked if I would meow stuff, just to break the writer's mental ice block... whatever that means...
Mom told me every time she starts to blog - she's just too tired and worn out... I would be too, if I had to hobble around outside in the cold all over town looking after all the kitties in three homes... Instead, I get to relax with my buddies on Uncle Mike's bed. So I promised to help Mom out.... cause I'm not tired.
First of all, I don't drive and secondly, I don't have a broken toe on my right foot.
Although Mom stepped on my tail today...
I was quietly sitting in the kitchen by Mom's left, waiting for awesome chicken she was deboning for stew... Mom stepped back and tried to get off my tail too fast and put weight on her broken toe...
She screamed in pain and I went running under Uncle Mike's bed. Mom hobbled through the living room to find me... She sat down on the bathroom stool until I finally let her pick me up and check my tail.... See Mom, you didn't hurt me... I'm okay. Please put me down now and quit checking my tail.
Sorry Mom that I forgot you couldn't see me cause you need new glasses. I forgot you're nearly blind in your left eye... I promise to meow next time or jump on sink ledge like I usually do.
**MOM'S TOE**
About Mom's toe, though.... the human doctors used x-ray vision and found out the bone fracture is aligned and healing.... They check again in a few weeks. But she still hobbles around in this really strange shoe, kind of like Frankenstein or something.
In OTHER MEWZ - Uncle Mike's Mew Job will start the first of February! Finally he can work in daytime instead of night stocking shelves for Wally Mart.... But next 2 weeks he only haz part time hours at Wally Mart. Uncle Mike am having trouble paying bills. Mom am eating less and stuff so we can have foods and litter.
And now I has question... Mom am really sad that Happy and her Mom, Molly have not found their forever homes yet....AFTER 5 MONTHS! They are staying at Mom's house, along with another kitty named Angel who needs a forever home too. Mom said we'll talk about Angel next time...
How come folks keep calling and saying that Happy am too old??? She am only 5 months and small and cute and sweet and pretty and... I LIKE GIRLS!!!
How come nobody likes Happy? I likes girls, but I can't adopt her... Mom says we has too many kitties at Uncle Mike's already...
And how come nobody wants Molly? She am funny...
(And how come skunks smell up Uncle Mike's yard... Mom has to go spray the window with citrus stuff again....)
Here is the link to Mom's ad to help gets Happy and Molly their forever home... http://wichita.craigslist.org/pet/4844064921.html Please Share with everyone... Thanks!
And a furry pawsome guy who loves his kitties could use some help, too. We promised to share his Go Fund Me account, which am here... http://www.gofundme.com/Helpcats
He forgot to use paragraphs.... Here's what he says about his rescued kitties though: "
My Cats Are My Best Friends, I Know ...Other Animal Lovers Can Relate! Losing A Buddy Is Like Losing A Family Member! I Have My Last Buddy Lightning Left and I Thank The Lord I Still Have Him."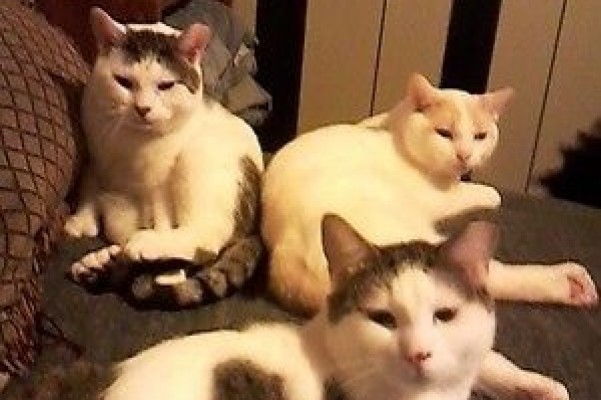 Well Mom, I hope that helps you gets out of your writer's ice block and write some more tomorrow... there's so much to share and I just talked some bout that.
Purrz and Prayerz for a blessed Sunny day,
Oreo and Katie Kat.
All kitties in the photos below are blogging for Selfie Sunday with http://thecatonmyhead.com/ !!!