Mama Cat and Kitten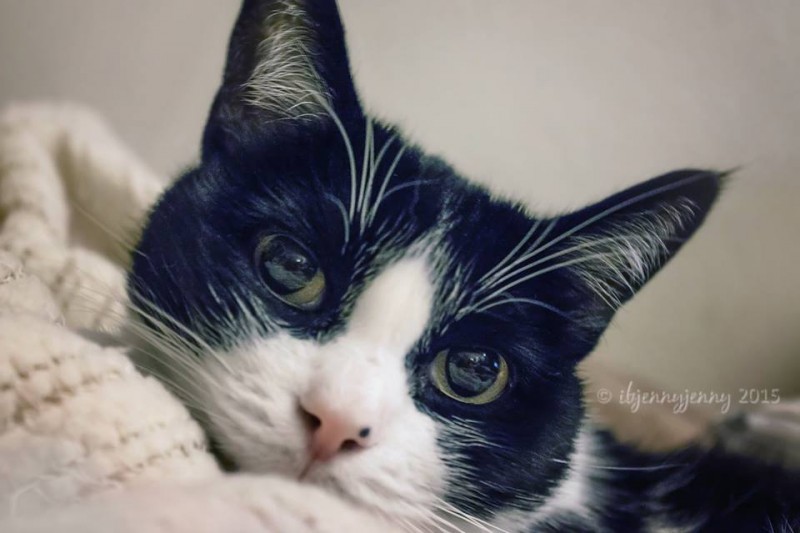 I am an Internet Cat - and I need you now.
I am an Internet Cat..
I am loved and wanted and cared for because I am one of God's majestic creatures...
I am an Internet Cat... When I am sick, People all over the world will pray for me.
I am an Internet Cat... People from all over the world who love God's furry creatures will come to my aid when there is a need...
I am an Internet Cat .. and I need you now...
(Note: Found Mama Cat's rescue story at Cat's Lane on Facebook today and had to share. She desperately needs dental surgery... https://www.gofundme.com/tzh22dhj)
================================
Now for the wordy part of the Tail...
Mama really needs to get full dental extraction done soon. Since her Mom, Jennifer Moore moved from California to Oregon, Mama's Stomatitis has really flared up. She is in a lot of pain, drooling and the drool has now become tinged with blood, and Jennifer is very worried.

She is on antibiotics, but sensitive to pain meds. The vet in Sacramento said her teeth need to come out. Jennifer is searching for a vet to handle the surgery in Oregon. In California the estimate was $1200.00.

Mama Cat (Mitzi) was rescued from a trailer park when very, very pregnant 2 years ago in the middle of winter. She had her babies the very next day in Jennifer's warm bathroom - all of her needs being met. The babies were so beautiful and Mama raised them well until they were adopted. 50 people applied and all the kittens found amazingly wonderful homes... Jennifer said on Cat's Lane that the kitten's families still send pictures.
Yet after Mama was spayed, she was diagnosed with severe Stomatitis, a severe, painful inflammation of a cat's mouth and gums. In most cases, the condition causes ulcers to form in the mouth; these ulcers can involve the lips, tongue, gums, and back of the throat. An awful, awful, painful disease and the only possible cure is to have ALL of the teeth removed.

Most cats do very well once the teeth are gone. (KFM's Mousie Cat had the same condition and did well after surgery, once her gums healed.)

You can see more of Mama on her Facebook page with many photographs of her and her kittens. No One Likes To Be Alone

Jennifer's other cats are at Mikey's House Facebook Page and on Mikey's House website.
Please help Mama cat if you can and please share, until this sweetie can have her surgery.
Purrz and may God Bless the Cats of Cat Blogosphere!
-Katie the Mom and Katie Too.
Click on Create with Joy badge to go to her blog hop...